We believe home should be the safest place in the whole world.
But, is it?
More info on Non-toxic cleaning products

According to a 15-year study presented at the Toronto Indoor Air Conference, women who work at home have a 54% higher death rate from cancer than those who work away from home. The study concluded that this was a direct result of the increased exposure to toxic chemicals, many of which are found in common household products.

More than 9 out of every 10 suspected poison exposures occur at home with household products.

The EPA says that only a fraction of the more than 75,000 registered chemicals have gone through testing for human health concerns.
---

What's Under Your Sink?
Carpet Cleaners
Extremely toxic to children. The fumes given off by carpet cleaners can cause cancer and liver damage.

Chlorine
The chemical most frequently involved in household poisonings and a potent pollutant. May cause reproductive, endocrine, and immune system disorders.

Degreasers
May contain petroleum distillates and butyl cellosolve, which can damage lung tissues and dissolve fatty tissue surrounding nerve cells.

Drain Cleaners
One of the most hazardous products in the home. Can contain lye, which is a strong caustic substance that causes severe corrosive damage to eyes, skin, mouth, and stomach. Can be fatal if swallowed.

Glass Cleaners
May contain ammonia. Fumes from ammonia can irritate skin, eyes, and respiratory system.

Mold and Mildew Removers
Often an acute respiratory irritant. May damage lungs, eyes, and skin.

Oven Cleaners
One of the most dangerous cleaning products. Can cause severe damage to eyes, skin, mouth, and throat.

Scouring Cleansers
May contain butyl cellosolve, a petroleum-based solvent that can irritate mucous membranes and cause liver and kidney damage.

Toilet Bowl Cleaners
One of the most dangerous cleaning products. Can contain chlorine and hydrochloric acid. Harmful to health simply by breathing during use.

Tub and Tile Cleaners
Can contain chlorine and may contribute to the formation of organochlorines, a dangerous class of compounds that can cause reproductive, endocrine and immune system disorders.
More info on Non-toxic cleaning products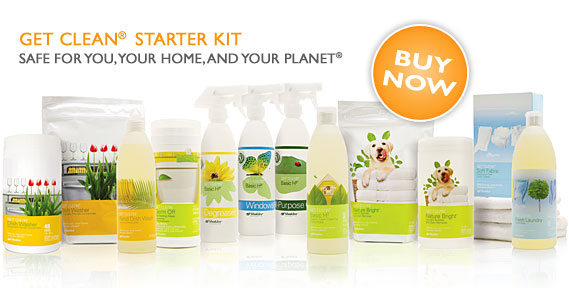 ---